Personalized rank US air force freedom isn't free but it's worth fighting for face mask.
The United States Air Force is an arm of the United States Army and one of a number of United States uniform forces. Formerly a member of the United States Army, the United States Air Force was created as a separate service on September 18, 1947 under the National Security Act of 1947.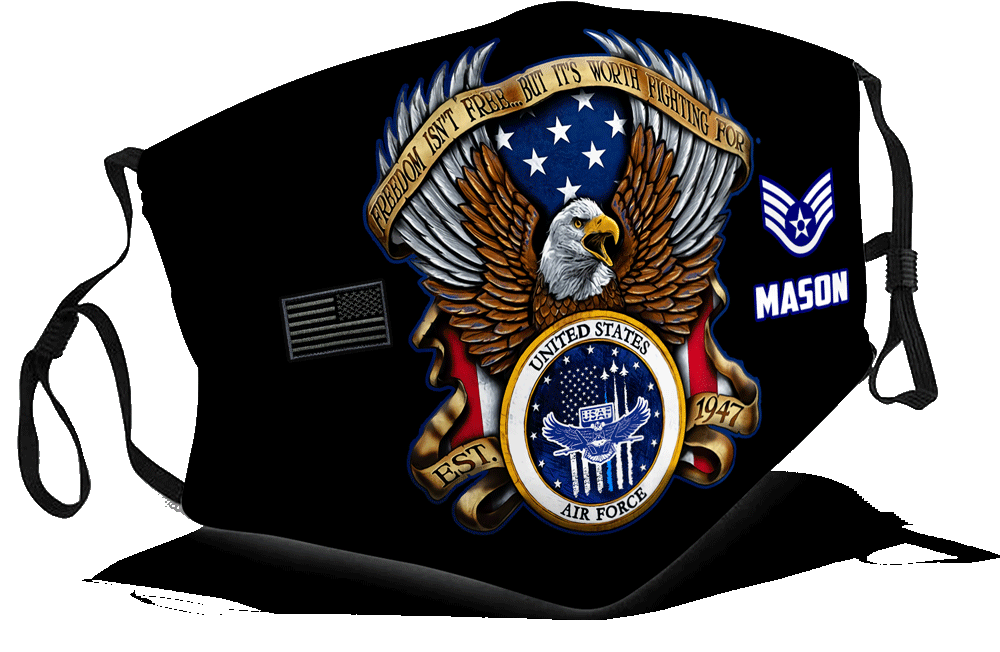 Buy custom rank and name US Air force mask with Pm2.5 filter
– Protection Class (Filter): PM 2.5
– Function: Anti-Dust, Anti-Pollen, Micro-Particle Barrier
Each face mask is made with 100% soft, breathable, and stretchable Polyester fiber.
Adjustable elastic sidebands with lock buckle allow it to wear easily. No need to tie or untie the mask each time you decide to put it on or take it off.
– Face mask laces can be black or white
– Package: One (1) Reusable Face Mask (With Three (3) Carbon Filters)
Important note:
– Please wash the mask before wearing but Do Not Wash the plug-in filter as it will become damaged.
– Wash mask by hand with soap and water, then air dry mask.
– Avoid the use of bleach.